Postal cards with infrastructure transport projects from Bulgaria honoured in a competition of the European Commission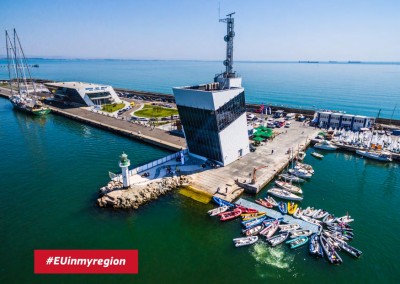 Three inspiring postcards of visit to infrastructure projects from Bulgaria implemented under the Operational Programme Transport are printed and spread across Europe. Viewed by the cities of Sofia, Ruse and Burgas, they were awarded a competition for photographs of projects funded with European funds under the # EUinmyregion initiative. The axes represent successful projects: the Sofia Metro, the VTMIS system for the management of maritime traffic and the River Information System BULRIS, where the total investment from the European Funds is above EUR 150 million. The postcards, with the exception of a beautiful vision and original design, contribute to the promotion of the brief information on the substance and benefits, printed on the back of each of them.
The cards are published in the Instagram account of the Managing Authority of the Operational Programme "Transport and Transport Infrastructure": https: //www.instagram.com/op_transport_bulgaria/?hl=bg.
More about the "Europe in my region" initiative, organised by the European Commission, you can find out about the link: https: //ec.europa.eu/regional_policy/bg/policy/communication/euinmyregion.