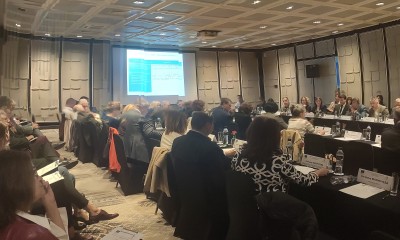 The redeployment of the performance reserve on the priority axes of the Operational Programme "Transport and Transport Infrastructure"" (OPTTI) 2014-2020 is the approach which ensures that no loss of funds will be allowed and that the financial resources of the programme will be fully used.
This has been said by the head of the Managing Authority of OPTTI, Eng. Galina Vasileva, at the extraordinary Monitoring Committee of the Programme, which took place on 27th of September 2019 in the city of Sofia. There will be a shift of financial resources from priority axes which currently do not cover their objectives towards successful priority axes and projects of the programme.
To maximize the resource efficiency and successful implementation of the programme, a package of concrete measures will be carried out — additional technical assistance projects for the development of the railway infrastructure will be included to ensure that they are fully prepared for implementation in the next programming period.
Renewal and modernization of the railway security systems along the railway section "Ruse - Kaspichan" is foreseen to ensure an adequate level of functional safety. The same measures were planned to be carried out on the railway section of "Sofia - Septemvri", but due to the delays, generated by the construction work, an alternative section was proposed.
Additional funding of EUR 3,2 million will be provided for the extension of the metro in the city of Sofia. Inclusion of a project for automatic gates for underground station platforms is foreseen for Line 1 and Line 2 under the specific objective "Improvement of transport management through the deployment of innovative systems". Platform gates provide many advantages while using the metro. They act as a physical barrier that prevents from falling of people and objects. These measures ensure bigger safety, comfort for passengers, as well as helping prevent suicides, reduce the risk of accidents (especially when the train passes through the station) and stops people from entering the tunnels.
These measures and proposed amendments were adopted unanimously by the members of the Monitoring Committee of the Programme. Mr. Aurelio Cecilio, Head of Unit at the Directorate General for Regional and Urban Policy at the European Commission, expressed his position that the citizens of the Union are at the centre of all European policies and that cooperation between stakeholders needs to be deepened.
Pursuing and considering future projects requires a strategic approach and long-term planning; this is a large-scale process where it is advisable to involve public institutions and non-governmental organizations, which together seek answers to the question of what transport policy Bulgaria needs.
Mr Cecilio called for the preparation of the new Operational Programme "Transport Connectivity" 2021-2027 to seek solutions for multimodality and connections between the different modes of transport, as well as to invest in clean modes of transport. Safety in transport will also lead by looking for concrete and adequate measures to reduce road accidents and road casualties.
Further information on the OPTTI texts could be found here: https: //www.eufunds.bg/bg/optti/node/559